44AD Associates Artsocial
Melissa Wraxall and Andrew Temple Smith
Sun 30th April, 12 - 1pm
You are invited to join us for the next Associate Artist discussion session which will take place at 44AD with Associates Melissa Wraxall and Andrew Temple Smith.
Melissa and Andrew will present their joint exhibition titled Transformation, discussing the work on display and the techniques involved.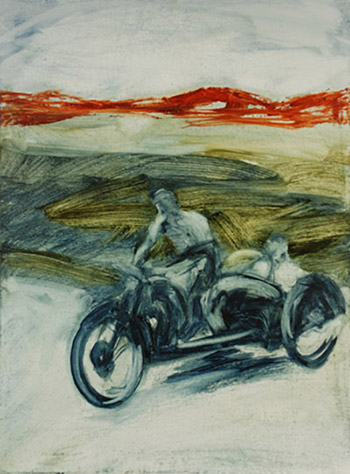 Melissa Wraxall's paintings and drawings involve a kind of transformation, drawing inspiration from found vintage photographs, many from her own family archive and transforming aspects of these images into the media of oil paint or charcoal. Melissa Wraxall's response to the photographic images in her archive is personal, direct and spontaneous – the result of both conscious and sub-conscious thought.
In the process of drawing and painting from these photographs, Melissa Wraxall attempts to coax these ghosts of the past into the present. Central to her painting practice is the materiality of the oil paint itself; choosing when to control the behaviour of the medium and when to allow gravity to exert its force, producing drips and runs. She does not aim for a photo-realist likeness in her paintings, as she feels that this would limit the way she can engage with both the image and the medium.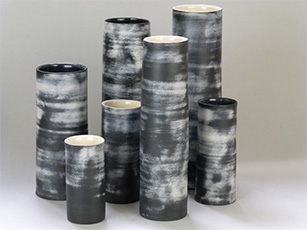 Andrew Temple Smith works with porcelain, which produces delicate and beautiful objects but is a notoriously difficult medium to work with. He says it is "like working with toothpaste", but feels that much of the satisfaction in working with this medium, lies with overcoming its challenging properties. An irregular mound of clay which can be easily dissolved in water, can be transformed by a skilled hand, and extreme temperatures into a finely balanced aesthetic object which can be functional, and can endure for thousands of years.
Much of the pleasure in perceiving Andrew Temple Smith's porcelain vessels, however, is not in merely looking at them, but in the physical handling of them; feeling the weight of it them your hand, the curves of the forms, and the contrasting textures of the silky burnished porcelain and the slippery gloss of the glazes.
Transformation, refers to the process of thinking and making as well as the viewer's act of experiencing the final outcome of that process.
Transformation Private View: Wed 26th April 6pm - 8pm
Exhibition runs: 25th – 30th April 2017 Open: 12pm - 6pm (Sun 1pm - 4pm)
For more information, click - Transformation
44AD Associates News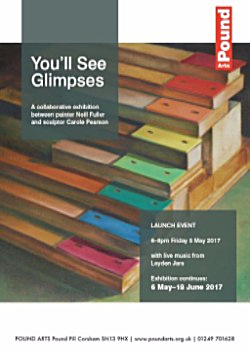 Associate Neill Fuller presents 'You'll See Glimpses' with Carole Pearson at Pound Arts, Corsham, Wiltshire.
Opening event Friday 5th May 6pm – 8pm at Pound Arts - all welcome!
The artists have invited Leyden Jars to perform in the gallery during the opening night.
Exhibition runs: Friday 5th May to Sunday 18th June 2017
For more information, click - You'll See Glimpses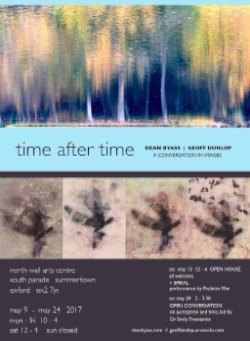 Associate Geoff Dunlop and fellow artist Dean Byass will be exhibiting in the gallery space at the North Wall Arts Centre in Summertown, Oxford - which is shared with a lively theatre and workshop complex.
You are welcome to join them at an OPEN HOUSE between 12pm - 4pm on Sat 13th May 2017.
(or on any of the other days when open between 9th - 24th May. Sundays excluded)
For more information, click - time after time
44AD Associate Richard White invites you all to join him on his ongoing walking projects. Creative interventions welcome, bring what you would hope to find, bring knowledge and questions to share. Gather and share. Each walk has a structure connecting relics of a nearly forgotten past.
Join on foot or online. Click for dates and details - Register for a Walk