May 2017
44AD Associates Artsocial
Deirdre and Martin Elphick
Sat 20th May, 12 - 1pm
You are invited to join us for the next Artsocial with 44AD Associates Deirdre Elphick and Martin Elphick.
Deirdre and Martin will present their joint exhibition titled Elphick and Elphick, discussing the work on display and the techniques involved.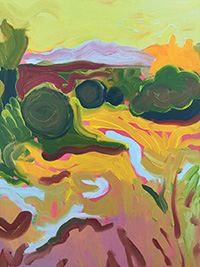 Deirdre's paintings and drawings are inspired by nature, be it landscape, still life or the human form. She has a particular interest in colour and mark making.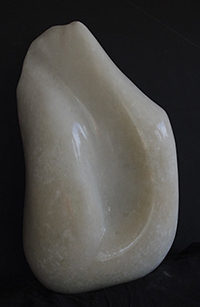 Martin has been making things since a very early age; but he has concentrated on sculptures now for several years. His work is often abstract, but he returns to human forms and natural textures and to practice in figurative skills.
Elphick and Elphick Private View: Tues 16th May 6pm - 8pm
Exhibition runs: 16th - 21st May 2017, Open: 12pm - 6pm (Sun 1pm - 4pm)
For more information, click - Elphick and Elphick
Can you donate a postcard artwork to 44AD?
44AD will be holding an original artwork postcard raffle at the Creative Bath Awards Summer Party, taking place on the 8th June 2017 in Queens Square.
The aim of this raffle will be to raise some funds for 44AD alongside promoting our local creative talent.
If you are able to donate an A6 postcard size piece of art for the raffle, it would be extremely appreciated!!
Thank you!!
Postcard artworks can be of any medium and handed in to 44AD any time during opening hours, up until 7th June 2017. Please write your name, medium and your website/contact details (if you wish) on the back of your artwork.
(There will be a box kep behind the gallery desk...)

19th - 20th May 2017
Save the Weekend!
Open Studios
Come and explore Bath's contemporary arts venue over the weekend of 19th - 20th May, when Artists at 44AD artspace will open their studio doors, offering a unique insight into their creativity.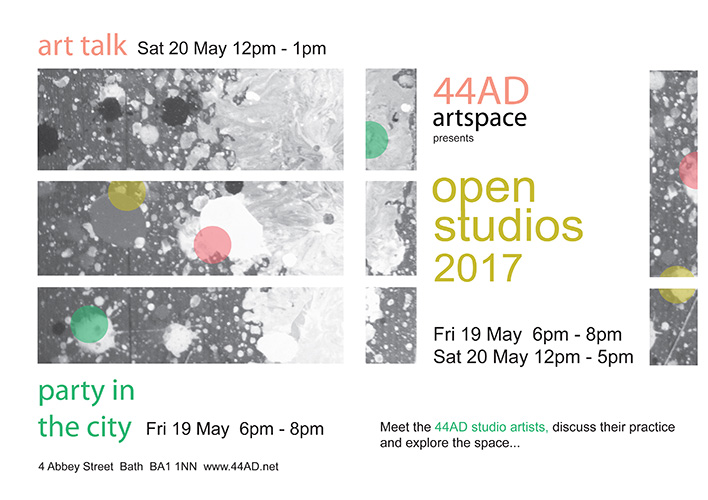 Party in the City
Broose
6:30pm – 7:15pm
Broose established himself in Texas, as an influential singer songwriter, collaborating with bands such as pop poppins and TOOMuchTV. Fresh from a tour in the States, Broose will be performing some well loved originals from his accomplished solo catalogue.
The Man in Washington
7:30pm - 8:15pm
The Man In Washington is the solo project of Chris Yeoh, a musician based in Bath and Glasgow. His music is a mixture of performance and storytelling, comprising sparsely-composed songs with lyrical depth. His debut album Sea Green was released at 44AD in 2016 and exhibited at the Fringe Arts Festival.
For more information, click - Open Studios and Party in the City
44AD Associates News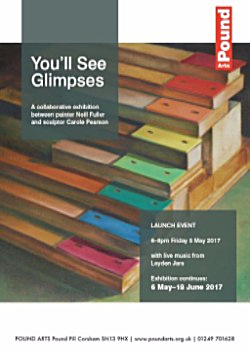 Associate Neill Fuller presents 'You'll See Glimpses' with Carole Pearson at Pound Arts, Corsham, Wiltshire.
Exhibition runs: Friday 5th May to Sunday 18th June 2017
For more information, click - You'll See Glimpses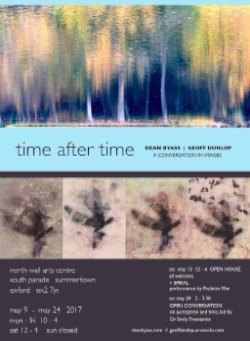 Associate Geoff Dunlop and fellow artist Dean Byass will be exhibiting in the gallery space at the North Wall Arts Centre in Summertown, Oxford - which is shared with a lively theatre and workshop complex.
Exhibition runs: Tues 9th - Weds 24th May 2017, Sundays excluded.
For more information, click - time after time
44AD Associate Richard White invites you all to join him on his ongoing walking projects. Creative interventions welcome, bring what you would hope to find, bring knowledge and questions to share. Gather and share. Each walk has a structure connecting relics of a nearly forgotten past.
Join on foot or online. Click for dates and details - Register for a Walk
Copyright © 2013 - 2017 44AD & all respective artists. All Rights Reserved.